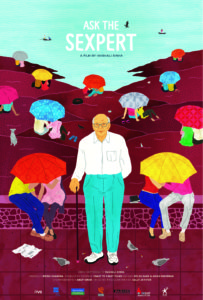 Vaishali Sinha, engaged in the film industry, is taking the opportunity to study this touchy question of sex in India. She is highlighting in her latest feature documentary film « Ask the Sexpert », the views of Dr. Mahinder Watsa. Under the column title 'Sexpert', Dr. Mahinder Watsa is having a Q&A section in the Mumbai Mirror's daily newspaper. The documentary is screening now in festivals across Europe, Asia and America.
For this precise moment, Vaishali Sinha is here on TdF, Interview!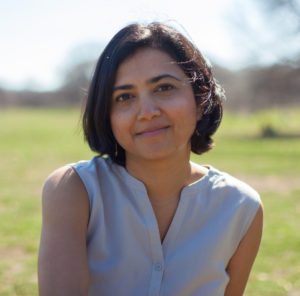 Sonia Johnson: How did you choose this specific subject for your film?
Vaishali Sinha: I wanted to make a film about positive sex stories from India. I wanted to make a film that could capture Indians discussing their sexual questions and experiences. So I settled on the idea of a sex therapist or counselor as my central subject, someone who would be my window into the larger world. I quickly discovered Dr. Watsa and from there on I started seeing and capturing things far beyond my expectations. It's been a wonderful journey.
Sonia Johnson: Was it complicated to treat this delicate question in India, interviewing people and have an open discussion with the expert?
Vaishali Sinha: At first Dr. Watsa was not open to the idea of the sessions being filmed, but once one of the clients agreed, dr. Watsa too then agreed to go along with the idea and we were then in new and exciting territory.
In terms of the people on street, they too were open for the most part and I feel that many Indians are ready and eager to talk about sex and sex education, at least in urban India.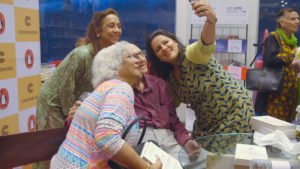 Sonia Johnson: How should the taboo of sex in India be understood here in Europe? Where did it come from?
Vaishali Sinha: I think the answer is probably more complicated than I can summarize but certainly colonialial heritage of morality laws did not help us!
Also India hasn't always been one or the other but it's been both progressive and conservative through time.
But India has entered a new era and as my subject Dr. Watsa says in the film "the world is changing very fast and so is India" he also says the one thing that has remained the same though are anxieties around sex and sexual health. He feels this requires a great deal of attention.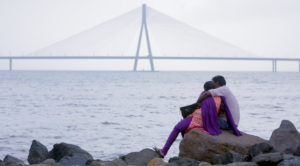 Sonia Johnson: What were your passions as a little girl? How did you become a film producer?
Vaishali Sinha: I have always loved movies, music, reading and travelling. Who doesn't? I'm lucky I found a calling that combines all of this!
After working with filmmakers in Mumbai for a couple of years I moved to New York to pursue film school. Thereafter I was hired by my film Professor Richard Wormser for his production company Videoline. Eventually I pursued independent filmmaking to create my own work and as independent filmmakers we wear many hats and I became my own producer. I did though work with a co producer for my first feature and same for this current one with Mridu Chandra who came on board half way through the process and greatly helped share the fundraising burden.
About the Film: Ask the Sexpert is a feature length documentary about Dr. Mahinder Watsa, a highly popular 93-year-old sex advice columnist for a daily newspaper in Mumbai. Despite sex being a taboo topic in India, the column's brand of non-moralistic advice and humor has emboldened many to write in with their questions. The columnist gains popularity even while a ban on comprehensive sex education in schools is adopted by approximately a third of India's states. 83′.
More info and dates on http://www.askthesexpertmovie.com/